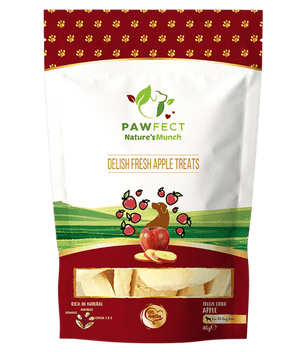 Pawfect Cheese Apple & Cinnamon Dog Treats
Apples are a fantastic low-calorie snack packed with valuable nutrients, making them a great choice for a snack or training reward. As our furry friends blissfully crunch the apple treats, they simultaneously receive the benefits of many vitamins and minerals. In addition to rich amounts of dietary fibre vitamin A, C & K, these treats contain no sodium and saturated fat. The extremely low protein content makes these treats a good choice for dogs that have restrictive diets that don't allow for high protein and fat. This is especially helpful for senior dogs or dogs with certain illnesses. The Omega 3 and 6 fatty acids enhance coat and skin health, while phosphorous and calcium contribute significantly to cartilage and bone health. The antioxidants contained in these fruits may help with warding off cancer and degenerative conditions like joint diseases.
Simple, Delicious, Nutritious and Pawfect!
100% natural dog treats

Gluten and grain Free

Free of preservatives and artificial flavors and colors

Ethically & sustainably sourced ingredients
Weight: 40g
BENEFITS:
Improved immunity and eye health

Contributes to great skin and coat

Aids in digestions

Low in calories