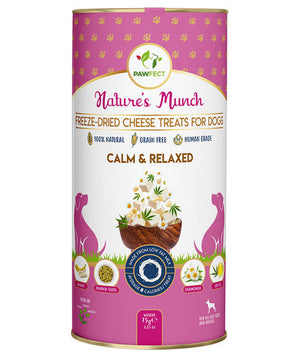 Pawfect Natures Munch Freeze Dried Treats -Calm & Relax
Specifically formulated for anxious dogs, Calm & Relax Treats are made with Cottage Cheese, Pumpkin Seeds, Chamomile, Bananas and infused with CBD oil. 
While we have specifically formulated our recipe with anxious pooches in mind, but these treats are suitable for all as even the most laid-back dog can suffer with their nerves from time to time. These treats are Freeze-Dried to lock in the natural goodness of our carefully selected ingredients meaning these calming crunchies are a great way to help our four-legged friends relax and unwind.
Like all other Pawfect food and treats these too are made with 100% natural ingredients and contain no artificial flavours, colours, preservatives, grain, cereal, gluten or soy.
INGREDIENT BENEFITS: 
Cheese:  High in protein. Rich in calcium, Vitamin A, B12 & essential fatty acids.               
Banana: Rich in amino acid L-tryptophan, which gets converted to serotonin (a relaxing neurotransmitter) and melatonin.                                                                       
Pumpkin Seeds: Helps synthesize anti-stress neurochemicals in the body. Source of selenium, a deficiency of which is known to cause anxiety, depression, and fatigue. 
Chamomile: Abundant in the antioxidant, apigenin that decreases anxiety and produces a naturally calming effect. 
CBD Oil: Helps to reduce stress and anxiety in dogs and elevates their mood.