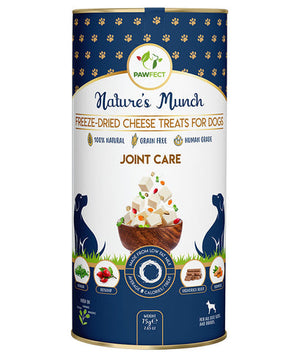 Pawfect Natures Munch Freeze Dried Treats - Joint Care
Specifically formulated for active dogs and dogs with mobility issues. Made with Cottage Cheese and a blend of Alfalfa, Licorice root, Rosehip and Turmeric.
These treats are Freeze-Dried to lock in the natural goodness of the carefully selected ingredients meaning these crunchies are highly recommended for joint health.
Just like the entire Pawfect food and treats range, our Joint Care treats are made with 100% natural ingredients and contain no artificial flavours, colours, preservatives, grain, cereal, gluten or soy.
INGREDIENT BENEFITS
Cheese: High in protein. Rich in calcium, Vitamin A, B12 & essential fatty acids.
Alfalfa: Delivers long-term relief for pets suffering from any inflammatory joint disease.
Licorice Root: Help reduce pain and inflammation. Also protects against cartilage degeneration.
Rosehip: Reduces inflammation, protects cartilage and boosts immunity.
Turmeric: Natural anti-inflammatory. Helps ease joint pain while boosting the immune system and supplying antioxidants to the body.