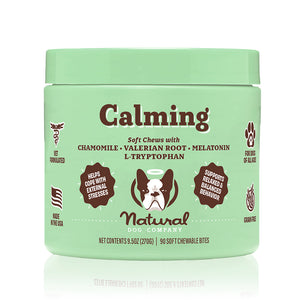 Natural Dog Company Calming Supplement
Natural Dog Calming Supplements 
90 per Tub 
Natural Dog Calming chews harness the soothing properties of organic hemp flour, chamomile, valerian root, passionflower, L-tryptophan, and melatonin to help relieve anxiety and calm hyperactivity. They work best when given daily at the recommended dose, but you can also give a normal dose just before a scary situation to help your dog remain calm. 
Best of all (at least when we asked the dogs), the peanut butter and bacon flavor of these chews means they're also a tasty treat that dogs love!
Calming Supplements are best for dogs that: 
To calm anxiety caused by loud noises such as thunderstorms, fireworks, or neighborhood sounds
To help a dog with separation anxiety adjust to being alone
To keep your dog from reacting negatively to strange dogs or people in crowded situations
At large gatherings where dogs may get overstimulated
Before a vet visit, to ensure your dog is relaxed and cooperative
When traveling, to keep your dog cool and collected in strange environments and during long car rides
Help your nervous dog find their inner zen
While training a reactive dog, to keep them focused on learning rather than their triggers
Key components for this chew include: 
Organic Hemp Flour | Manages normal stress levels [does not contain CBD or THC]
Chamomile | An herb with natural calming properties. Also helps to soothe gastrointestinal issues
Valerian root | An herbal supplement with mild sedative qualities to help calm
Passionflower | An herbal supplement that reduces hyperactivity
L-tryptophan | Reduces stress and aggression in dogs in stressful situations
Melatonin | A natural hormone that reduces feelings of anxiety and relaxes the body
Remaining essential ingredients:
Ginger Root, Thiamine, Chickpea Flour, Potato Flour, Tapioca Starch, Cane Molasses, Sunflower Lecithin, Vegetable Glycerin, Purified Water, Safflower Oil, Natural Peanut Butter Flavor, Natural Flavors, Bacon Type Flavor, Ascorbic Acid, Vitamin E
FAQ
CAN THESE BE GIVEN IN CONJUNCTION WITH YOUR OTHER SUPPLEMENTS?
Yes, our Calming Supplement can be given in the appropriate dosage along with one other supplement.
WHEN SHOULD I GIVE MY DOG CALMING SUPPLEMENTS?
The chews should be given in their recommended dosage 30-60 minutes prior to any anxiety-increasing event like car rides, vet visits, fireworks, having visitors over, etc. 
They can also be given daily to help with general hyperactivity and anxiety. In fact, these Calming Supplements work best when they are given on a regular basis.
HOW LONG DO THE CALMING EFFECTS LAST?
The effectiveness window will vary widely depending on the size of your dog and their metabolism. At a minimum, you should notice calming effects for 3-5 hours with a maximum range of 8-12 hours.
DO THESE SUPPLEMENTS INCLUDE CBD OR THC?
No, our Calming Supplements do not contain any CBD or THC. 
WHAT IS THE SHELF LIFE?
Calming Supplements are best if used within 2 years of the manufacturing date, printed on the bottom of the jar.
WILL MY DOG ENJOY THE TASTE OF THESE SUPPLEMENTS?
Of course! These supplements are a delicious Peanut Butter & Bacon flavor. 
IS THERE ANYTHING I NEED TO LOOK OUT FOR?
You may notice your dog feeling drowsy or acting more lethargic than usual. If you have any concerns about your dog's behavior, discontinue use and contact your veterinarian immediately.