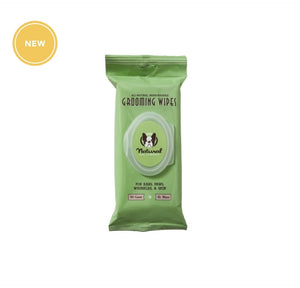 Natural Dog Company Grooming Wipes
Natural Dog Grooming Wipes
Grooming wipes are perfect for days where bathtime simply is not in the cards. Our wipes are formulated to keep Scout clean, but they are also useful for cleaning any particularly irritated or inflamed areas of the skin.
Grooming Wipes are extra-large, making clean-up easy for every dog, no matter their size! These ultra moist wipes come in a resealable package to prevent drying out. Grooming Wipes are biodegradable, so you can keep your pup and the earth clean!
Each package contains 50 XL wipes
Aloe Vera | Soothes irritated skin; calms inflammation on the surface
Witch Hazel | Astringent; reduces topical inflammation; cleanses the skin
Decyl Glucoside | Gentle cleaning agent; rids the skin of irritants & dirt; score of 2 on the EWG Skin Deep analysis
Remaining Ingredients:
Purified Water, Gluconolactone, Potassium Sorbate, Sodium Benzoate
FAQ
ARE GROOMING WIPES SAFE TO USE IN EARS?
Yes, Grooming Wipes are safe to use on and around the ears. However, we do not recommend shoving the wipe deep into the ear canal. As a rule of thumb, don't use the wipe on any areas you cannot see while looking at your dog head on.
ARE THEY SCENTED?
Grooming Wipes do not contain fragrance; however, they do have a light, fresh scent from the Witch Hazel.
CAN THEY BE USED IN PLACE OF A BATH?
Grooming Wipes can be used in place of a bath to remove dirt & other light grime. However, we still recommend bathing your pup if they are extremely dirty or you need to remove allergens like pollen.
CAN THEY BE USED TO PREVENT OR HELP WITH YEAST ON SKIN?
These wipes are not formulated to be antifungal or antibacterial, but they can remove any irritants that are resting on the skin.