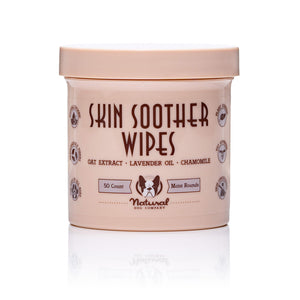 Natural Dog Company Skin Soother Wipes
Skin Soother Wipes -50 Wipes
Skin Soother Wipes gently and effectively relieve itchy, dry, red skin, cuts, rashes, burns, and skin infections. These anti-inflammatory dog wipes can be used on faces, paws, and butts to heal and soothe itchy skin from allergies. These vet-formulated nourishing wipes are extra gentle on skin and work wonders without harmful chemicals. Safe for dogs of all sizes, ages, and breeds, these wipes make an excellent addition to your pup's skincare routine and first aid kit!
These wipes are made with similar active ingredients as the Skin Soother balm, but provide a cleaner, easier application. You won't have to wash your fingers after using these wipes on your dog. And with a set amount of ingredients on each wipe you'll never have to worry about over or under applying the healing ingredients. Plus this product won't melt when the temperature gets higher like our balms tend to do, so it's more stable under all storage conditions!
No distractions needed!
Gently wipe your pup's skin to help alleviate irritation and redness or between wrinkles for cleaner skin folds. Perfect to use on faces, butts, & paws to create a barrier on the skin to keep moisture in & bacteria out! No mess, no cleanup, no distractions needed
Our ingredients are organic, plant-based, and never compromised. With the highest quality and natural healing properties, these wipes are effective, safe, and will leave your pup living its best life! Some star players in Skin Soother Wipes include:

Oat Extract: This grain based ingredient moisturizes and nourishes dry, sensitive skin while also healing and soothing irritated areas. Oat Extract also helps to aid in maintaining the skin's natural protective barrier.

Lavender Oil: Lavender is a natural oil extracted from lavender flowers that has strong anti-inflammatory, antifungal, antimicrobial, and detoxifying properties. Lavender helps to reduce redness, soothe, and heal skin from irritation.

Chamomile: Listed as Anthemis Nobilis Flower Oil in the ingredients, this essential oil contains powerful antioxidants that help to calm, soothe, and protect the skin. Chamomile helps alleviate redness and inflammation from its anti-inflammatory properties.

Full ingredients list: Water, Polysorbate 20, 1,2 Hexanediol, Decyl Clucoside, Avena Sativa (Oat) Kernel Extract, Anthemis Nobilis Flower Oil, Lavandula Angustifolia (Lavender) Oil, Polyaminopropyl Biguanide, Tocopheryl Acetate, Sodium Citrate, Caprylyl Glycol